Cub Camp 2011
Page 1 |  Page 2 |  Page 3 |  Page 4 |  Page 5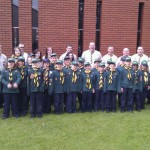 The Cubs left for their annual camp at Aberafon Camp Site in Gryn Goch near Caernarfon on Saturday 28th May 2011.
The minibuses left Wesley Street on Saturday morning and the children will be camping for four nights, arriving back at Wesley Street at around 15:30 on Wednesday 1st June. There is an exciting programme of activities arranged and you can keep up to date using the links to Twitter LIVE from the camp.
Both children and leaders will be exhausted when they return from camp and we would appreciate as much help as possible to put the equipment away when they return.
UPDATES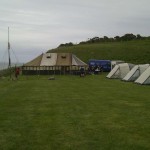 Everybody has worked hard to setup camp.  It is a fantastic site with views directly over the sea.
The Cubs went on a walk on Saturday afternoon and they enjoyed Swedish meatballs and rice for dinner with cake for pudding.  Yum Yum!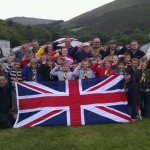 Check out our new Union flag in memory of the son of our founder Mike Vernon (Chief) and George Sykes (Bosun) who both passed away last year.  They are very much missed on camp!
Saturday finished with an evening walk on the beach.  The cubs have been looking for driftwood for Sunday lunch that will be cooked on open fires.
The theme for this year's camp is "Rule Britania!" Each Six has been named after a patron saint and the cubs have been designing their own t-shirts (see below).