About
1st Hazel Grove Scout Group is based at the Methodist Church on Wesley Street in Hazel Grove South of Stockport. We are a friendly welcoming group who are always looking for new members. Feel free to contact us with any questions or suggestions.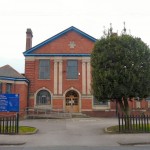 We have sections for boys and girls aged 6 to 25 years!  We are a very active group, with adventure at the heart of all we do.
We are very lucky to have a large number of leaders and helpers and active support from the entire community, but we are always looking for more people to get involved with our activities or to help with general organisation and administration.  Want to get involved?  Please don't hesitate to contact us.
Our Group has been providing scouting activities for over 85 years, but we were not the first Scout Group in Hazel Grove.  Scouting started at Wesley Street Methodist Church on 5th March 1916 – a troop known as the 2nd Hazel Grove.  This troop ran successfully until 23rd June 1917 and despite being reformed in 1918, lasted only a short time and was absorbed by the 1st Hazel Grove troop – an independent Troop – with a hut located by the path leading from Spring Gardens to London Road, which closed in 1919.
Our founder Harold Vernon (Chief) was determined once again to start a Scout Troop at Wesley Street and, in order to lay a firm foundation, he first of all got together a group of boys and trained them to become Patrol Leaders.  These boys held their first outdoor activity at Poynton in January 1926.  The result of his foresight was that when he registered the Troop on 22nd March 1926 and opened its doors for general membership.
Find out more about the History of 1st Hazel Grove Scout Group.