Winter Cub Camp 2012
Scammonden Activity Centre
23rd to 25th November 2012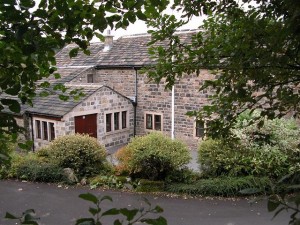 This year's winter cub camp is at the Scammonden Activity Centre, close to Huddersfield.  The activity centre is located on the shore of Scammonden water.
Click here for a link to the Scammonden Activity Centre.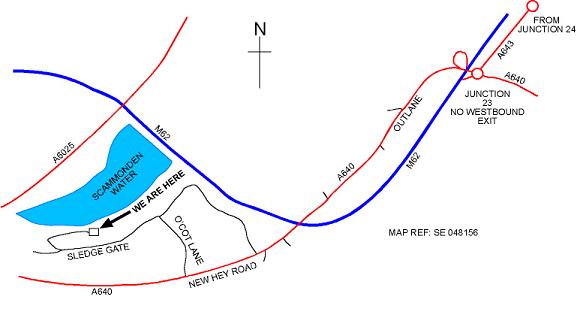 FRIDAY EVENING
The theme for camp is "Mad Scientists" and the cubs are undertaking activities for the Scientists Badge.  Each Six has been named after a historical figure and the camp spent much of Friday evening making mad scientist costumes.  On Friday evening the camp also learnt about yeast and the children got to make their own bread. (see below)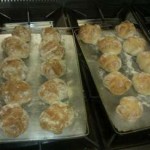 Quite a late evening with a sing-song, followed by hot chocolate, cake and then bed.
SATURDAY
Camp was awake early on Saturday morning with lots to eat including cereal and a fully cooked English breakfast!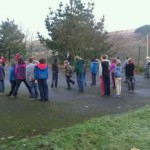 After breakfast the children played a quick game whilst everybody got ready for the morning activities.
There were lots of exciting activites on Saturday morning.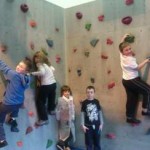 One of the sixes on the indoor climbing traverse!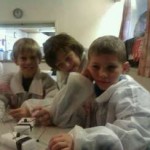 Mad Science Buzzers!
All the cubs had a great time on Saturday.  The cubs moved around various activities throughout the morning.  It was cold outside at Scammonden, but all the children were warm and dry in this fantastic facility.
There was a great view of the reservoir from the building – a very picturesque location, just perfect for this year's winter camp!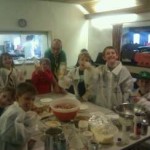 Here is Alexander Graham Bell Six wearing the lab coats they decorated, making butter to go with the bread that they made.
Cornflour Slime! Is it liquid or solid?! Nobody knows!!!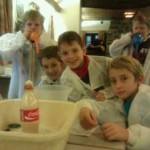 Making gas to inflate a balloon with vinegar and bicarbonate of soda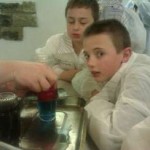 An experiment with food colouring to demonstrate diffusion and how hot water rises.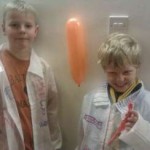 Some experiments with static electricity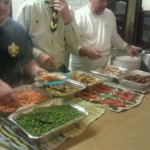 After a full day of activites on Saturday, the Cubs watched a movie during the late afternoon, whilst preparations were made for the evening meal – a huge roast turkey feast with all the trimmings!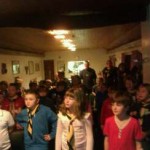 After the Saturday evening meal, the cubs took part in an indoor treasure hunt, before getting together for an evening of entertainment at the indoor campfire!
SUNDAY
The Cubs Own message of the day: Teamwork. Working together on camp is like making bread, lots of ingredients needed to make it all work together.
After flag break and the "Cub's Own" reflection, the Cubs went out on a very wet hike around Scammonden Water.
After lunch there was just sufficient time to clear up and pack things away before heading home to Hazel Grove in the minibuses.
A fantastic weekend was had by all.