On Sunday 24th April I was invited to a 'Day of celebration' at Windsor castle to formally receive my Queen Scout Award. Having officially received my Gold Duke of Edinburgh award in the presence of Prince Edward, Duke of Wessex last October I was excited and eager to continue celebrating my achievements gained throughout scouts.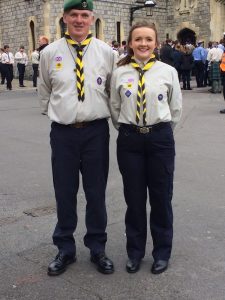 Meeting at Victoria barracks for 9am we were assigned into our sections, our uniforms were inspected and we spent the morning learning how to march, stand to attention and ease correctly. Following lunch, we congregated once more in our sections at the royal mews before parading into Windsor castle grounds and standing to attention in the quadrangle whilst waiting for the honouree guests to arrive.
This year Her majesty the Queen was represented by her cousin His majesty prince Michael of Kent as well as the chief scout, Bear Grylls. Whilst at attention in the quadrangle
I was fortunate enough to be stood on the front row and as a result was addressed by his royal highness (!) who asked me a few questions about my involvement in scouting and where I had travelled from.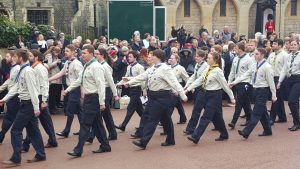 As a parade we then marched around the quadrangle proudly passing by friends, family and the honouree guests including an unexpected Steve Backshall who spontaneously invited me to a high five! We then marched through the castle and down into St George's chapel where the national scout service took place before marching back to the royal mews and were dismissed.
Despite it being a very cold and windy day the rain held off and the excitement and pride of taking part in such a unique event acted as the perfect distraction. The experience truly was inspiring and a great reminder as to why I have been in scouting for over 10 years now.
I will wear the Queen Scout badge with pride and the daylong celebration will always be a milestone achievement in my scouting journey.
Ruth Sykes