Our Annual Camp this year was held in the beautiful North Yorkshire countryside near the market town of Malton.  This was a return to green field camping we were really looking forward to.
Saturday – Day One
We set off around 9am from Hazel Grove with quite a convoy.  Two minibuses, a van and a 4×4, three of which towing trailers!  After battling through the holiday traffic for four hours we arrived at our camp site.  As we arrived and tucked into our packed lunch we watched another Troop from Sheffield break their camp.  They all cheerfully waved as they left.  That and the total lack of mobile phone reception let us know we were in for a fun and relaxing week!
After lunch we unpacked and set up the marquee and the rest of the tents, a dozen all told.


The weather was glorious, so as we all sweated so much pitching tents and digging pits the Scouts all went for a dip in the lazy river.  They lovedit and had an absolute ball, despite the fact that after climbing out they were muddier than when they started!
We had dinner and finished the day with a vigorous game of ultimate Frisbee followed by an impromptu sing-song while we waited for our hot chocolate.  We went to our tents under a carpet of stars, it was chilly but beautiful.
A great day to start camp!
Sunday – Day Two
After a quite a cold night we woke to another gorgeous day.  After breakfast we broke for bases; Campsite Safety, First Aid, Knots & Lashings and Wood- Cutting.  All vital skills and knowledge so we can work safely during the week.


After lunch we visited Eden Camp, a former Prisoner of War camp that has been turned into a museum.


The staff in reception highly-recommended a puppet show to the Scouts.  We all went in for the show, after a few minutes it was clearly no West End smash hit.  The leaders duly apologised to every Scout on the way out!
A look around the museum and some souvenirs and ice-creams swiftly cured our boredom though!
Back to Camp and it was dinner followed by a game of Golden Magnolia™ (a 1st H.G. tradition – don't ask!) before another sing-song and bed.
Monday – Day Three
Monday was a early start for a special day out.  After another hearty breakfast we clambered in the minibuses and headed to Aerial Extreme; a high ropes course in Bedale Forest.  It was a great few hours spent clambering across the obstacles and swinging through the forest.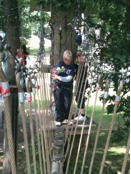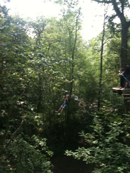 Some Scouts found it was challenging but they all found it was very exciting!  An after-dinner game of Bingo ensured a lively end to the day.
Tuesday – Day Four
Was back to basics with 24 hour survival.  All the Scouts and Explorers were banned from the marquee and given meals to cook on open fires.  An early rise to get the fires going for bacon butties.    During the morning we did three different activities; Tracking, branding and shooting.
In the afternoon we went to the local swimming baths for a swim and very welcome shower!
For lunch we did 'Coathanger Cooking' cooking up meatballs and potatoes followed by lots of roasted marshmellows.  Dinner was much more creative as we made our own calzone pizzas.  We made our own pizza dough and prepared our own toppings.
We also tried gutting and cooking our own mackerel.  It was a real challenge but we really enjoyed it, the Calzone Pizzas were a real success!
Wednesday – Day Five
Wednesday was another day out to Flamingo Land Theme Park.  The Troop got the run of the park to ride the rollercoasters and have more ice-creams and sweets than is sensible!  We needed to invest some Scouts so where better than one of the rides?
It was certainly a fun and memorable way to get invested.  But perhaps not the easiest place to make the Scout Promise heard above the screams!
Thursday – Day Six
The Camp split itself in two for the day, each doing one activity in the morning and afternoon.  Both groups got to explore Malton, the local town while doing a Treasure Hunt.  The town has a beautiful old square and cattle market.  Although the Scouts seemed to enjoy a particular notice for a ferret for sale.  They even turned the advertisement into a song!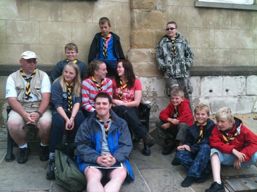 So to give their little legs a rest the other activity had us sat down – in kayaks!  The river was wide, deep and slow – ideal for kayaking.  It was great to chance to put into practice what we had learned during our summer programme.  We paddled forwards, backwards and sidewards.  We were also challenged to form a raft and swap canoes, dip our noses in the water and even had a belly-flop competition!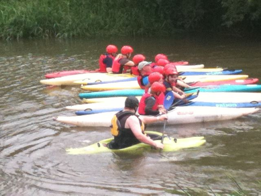 We also performed our last investiture while rafted up and stood up on the river!  To finish every Scout demonstrated real bravery by practising a capsize.  Everyone got out of their kayaks smoothly and safely which was really something to be proud of.  We all really enjoyed the kayaking, it was fantastic fun.
Friday – Day Seven
There had been some rain in the past couple of days, but on our last full day we woke to a beautiful morning.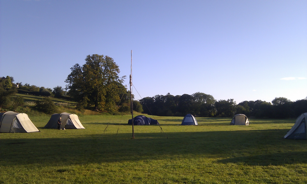 After a quick breakfast we once again packed into the minibuses for our day at the seaside!  We headed to Scarborough for another refreshing swim and shower before lunch.  We then headed to the front of the South Shore so we could spend the pocket money burning a hole in our pockets!  All manner of penny arcades and souvenir shops tempted us in to buy gifts for the lucky folks at home!
Once we returned to camp we had a special chip shop supper in the evening sunshine outside the marquee followed by our usual rip-roaring campfire sing-song.
The marquee shook as we sang and danced away the last night of camp.  And the hairs on the back of the neck stood up as we finished with our traditional farewell songs.
We all gratefully crawled into our sleeping bags at the end of a long week.
Next day we strook camp after breakfast.  All the tents were wet but we just got on with it with a great spirit.
Scouts, Explorers & Leaders all had an amazing time.  The teamwork was strong all week and how everyone got into the spirit of camp was fantastic.  It was a brilliant week, one to really remember and we can't wait for next year!