A Scout Group is born…
A Scout Troop was started at Wesley Street on 5th March 1916 – this was known as the 2nd Hazel Grove.  This group ran successfully until 23rd June 1917 when it was absorbed by the 1st Hazel Grove Troop – an independent Troop – with a hut located by the path leading from Spring Gardens to London Road and existed c1915-1919.
The 2nd Hazel Grove Troop was reformed at Wesley  Street on 4th June 1918 but, despite initial success, lasted only a short while. As was the case with many groups, scouting generally suffered at this period from the demands of the World War on its leaders.  It is worth recording that it was through the efforts of 2nd Hazel Grove that our founder, Harold Vernon (Chief) first obtained his youthful introduction to Scouting.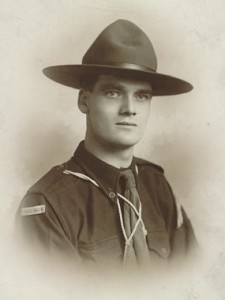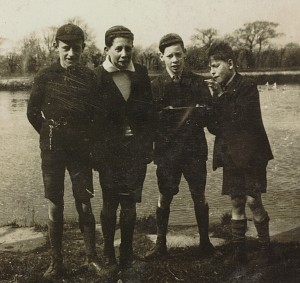 During 1925, Chief determined once again to start a Scout Troop at Wesley Street and, in order to lay a firm foundation, he first of all got together a group of boys and trained them to become Patrol Leaders.  These boys held their first outdoor activity at Poynton in January 1926.
The result of his foresight was that when he registered the Troop on 22nd March 1926 and opened its doors for general membership, he was able to offer four Patrols, each with a trained  patrol leader – R Shuttleworth (Hawk), E Wilson (Peewit), G Taylor (Owl) and G Pinder (Buffalo).
Shortly after this he was able to increase the number of Patrols to five with P Wright leading Woodpigeon.  The annual camp that year was at Rhyl in August and at that camp the Troop was in uniform and our gold and black neckerchief began to make its presence felt.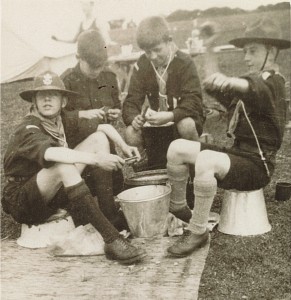 The following pictures are from a Marple Camp held at Whit in 1927.  Click any picture to enlarge.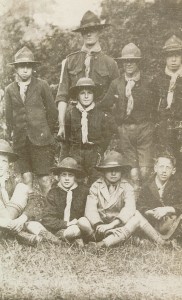 The following pictures are from 1929, again in Marple at Whit.
The Group Thrives, but there's another War