Family Camp 2022
Family Camp 1st – 3rd July 2022
Linnet Clough Campsite, Mellor
Booking information is right at the bottom of this page, please read it all!
This year's Family Camp will take place at Linnet Clough Scout campsite, Mellor, and everybody is welcome. The camp will start with arrival from 5pm on Friday evening and will finish at noon on the Sunday. All sections and their families are invited to part in this fun weekend and we have a variety of exciting activities that should keep the whole family entertained.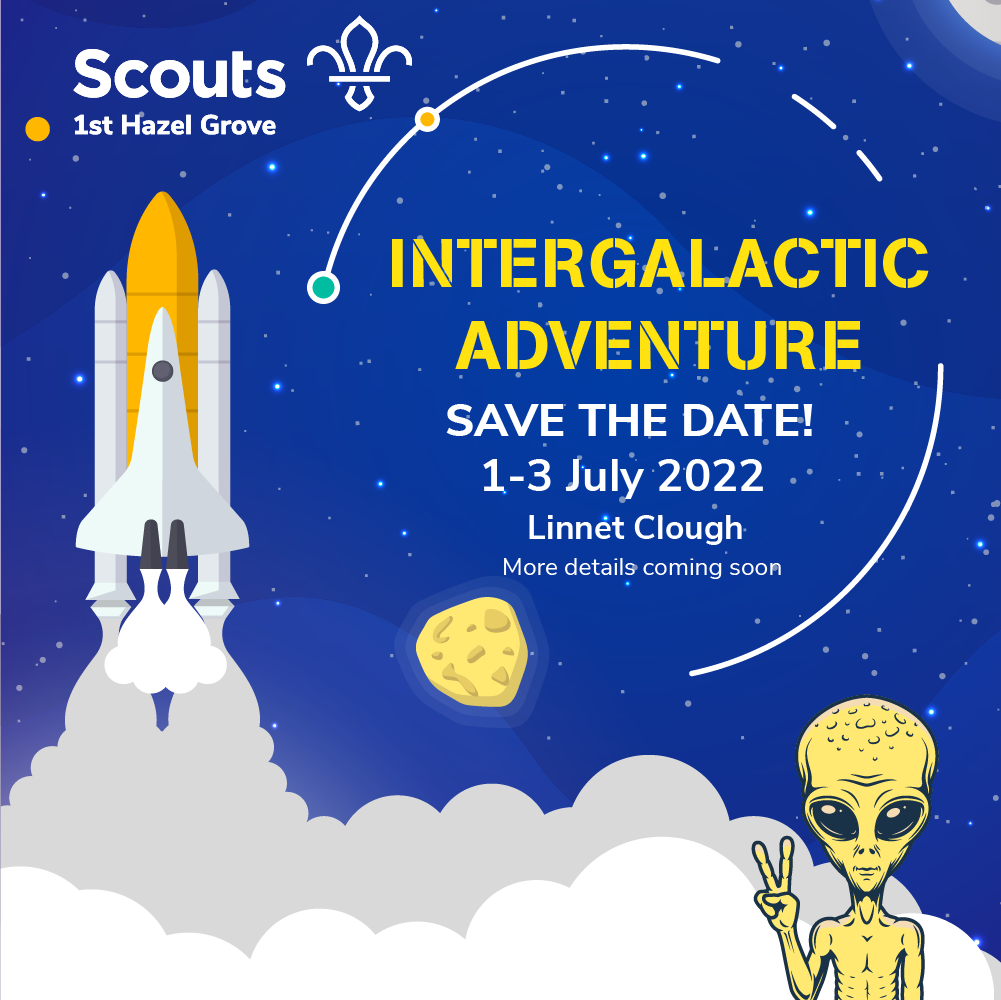 Need a tent?
If you need any camping equipment, don't worry as the Group can provide some equipment, but we ask you to indicate this on the booking form below. There will be no cooking equipment available, although a supply of boiling water will be provided throughout the weekend.
You don't have to camp to take part!
If you don't want to camp, we'd love for you to join us for a full day of activities on the Saturday. Day visitors will arrive around 9:30am and can depart after the camp fire in the evening.
Are you ready for an intergalactic adventure?
The theme for this Family Camp is an out of this world adventure. Think aliens, moon walks, time travel whatever you can imagine so long as it's out of this world! On the Saturday evening, we'll our traditional 1HG Family Camp BBQ complete with fancy dress. Tentacles, Antennae, Space Suits, Light Sabres all encouraged. There will of course be prizes for the best costumes!
Who can come?
Everybody is welcome to attend this exciting weekend of activities, from the smallest babies to the oldest grandparents, but all children MUST be accompanied by an adult. The Group's leaders will be busy organising the activities, so each family must take responsibility for their children at all times. All adults will require DBS clearance and may need to attend a drop in session on their child's section night at Wesley Street (see below).
How much does it cost?
Prices include the Saturday evening meal, camp fees and all activities
Weekend Campers
Saturday Day Visitors
Adults 15+
£30
Adults 15+
£20
Children (6 to 14 years)
£20
Children (6 to 14 years)
£15
Children (3 to 5 years)
£10
Children (3 to 5 years)
£5
Children (under 3 years)
FREE
Children (under 3 years)
FREE
How to Book?
Click here to book no later than 31st March 2022. Once you've completed booking details, we'll send you a request for a deposit of 50%. The remaining balance will be required no later than 27th May 2022.
If DBS disclosures are required we'll also contact you to request information about the adults requiring them.